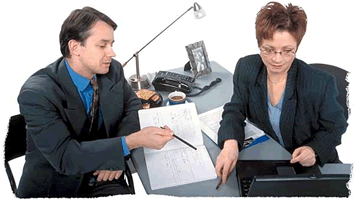 Fireball PC offers complete IT consulting services for your business. We can help in computer, network, security and telephony hardware and services purchasng and website design. Our professional IT consultants can show you how you can save money by purchasing the correct products that help your business grow and control your IT spending. We have partnered with many computer hardware equipment manufacturers that have many different financing programs to help your business control your cash flow.
Often, businesses are fearful of repairing, upgrading and or purchasing computer hardware components and software because they don't understand these areas. We can advise, educate and support your business on the correct hardware components and software that can increase the efficiency, productivity, and most importantlt, the profitability of your business. We welcome the opportunity to speak to you in detail about technology and potential solutions for your particular business challenges.
In todays business world, Information technology (IT) is crucial to business growth.Companies can no longer afford, compete or even survive without the use of technology. More often than not, financing is a major issue for purchasing new computer equipment, servers, printers, etc., especially for small businesses.If this sound familiar, Fireball PC has partnered with many computer and printer manufacturers' that have many financing options targeted to help small to medium businesses grow and control their cash flow. If financing is limiting your business computer and printer purchasing, contact us, Fireball PC, for more information about IT financing programs.
Call us directly at 860.653.3219 or send us an email with your questions or comments, or schedule a free, no obligation consultation at your business or home office.
Below is a partial list of IT consulting services Fireball PC offers.
Installations and Upgrades
Technical Support
Hardware and Software Sales
PC Deployments, Installations
and Upgrades
Desktop/User Support (PC's, Laptops,
Peripherals, Printers and more)
Structured Wiring
Scheduled Service Agreements
Network Support (Servers, Firewalls,
Switches, Connectivity, Security)
Network Design and Consulting
Network Maintenance
Network Assessment
Network Security
Structured Cabling and Wiring
Project Based Services
Migrations
Network Documentation and Inventory
Network Monitoring
VoIP Telephony
Laser Printer Service
Remote Support
Managed Services
Managed Printer Services
Office Relocations
We Subcontract
If you are looking for representatives in the greater Hartford, CT area to perform work on your behalf for your clients, we can provide reliable techs at negotiated rates. Call us for more information.
Computer Repair, Printer Repair, IT Consulting Services in CT, MA, NY & RI
Here is a list of our immediate coverage area, Fireball PC also covers surrounding States by appointment. Please call for more information.